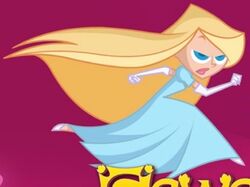 Princess Gwendolyn is a character from the series Gawayn. She is a member of the Questers.
Appearance
Edit
La princesa Gwendolyn es el female mejor amigo de la Princess Aria, ella es igual que sos Questers, Gwen pasa por muchos cambios de vestuario diferentes. Por lo general en la vestida con un vestido azul claro con guantes que todo el camino a sus codos. Ella tiene ojos azules y pelo rubio.
Personality
Edit
De todos los questers, Gwen es la más nivelada y poco madre del grupo. También es la más templada de los Questers, aunque esté enojada, es un combatiente feroz. Ella tiene un punto suave de Sir Roderick y sueña con un día con él. with Princess Rodericka she is 20 year old is adult but with your parents of the 30th century
Ad blocker interference detected!
Wikia is a free-to-use site that makes money from advertising. We have a modified experience for viewers using ad blockers

Wikia is not accessible if you've made further modifications. Remove the custom ad blocker rule(s) and the page will load as expected.